I work primarily with WordPress and WordPress-specific sites, so I require a host, not only for my own websites, but which offers the infrastructure I need to ensure that I'm taking care of my clients websites as well.
SiteGround offers the essential services needed for small to large scale sites. Here are my top 4 reasons to choose SiteGround hosting for your WordPress website.
4 Reasons You Need Siteground Hosting
1. SiteGround Hosting Support
SiteGround boasts "insanely fast support with a heart" and they're not joking. They provide instant support by phone or by chat and provide support on tickets within 10 minutes. They provide awesome 24/7 support when you need it and how you want it.
I know you hate waiting for the "next available agent" as much as I do, and the cool guys at SiteGround are the same way, so they make sure that we don't have to deal with those issues.
Their support is awesome in that it doesn't just handle installation and migration, but they will help you with popular script extensions, plugins, and templates. They help to fix issues related with applications and other issues that most any other host will turn down as "not their problem."
2. SiteGround Hosting Speed
Speed is incredibly important in today's market. If your site doesn't load quickly, then it doesn't get read. SiteGround understands this and ensures that you have the top speed at all times.
Most hosting companies give you the best hardware when you start, but  when it's time to get new gear, only the new users get it. SiteGround ensures that everyone gets it all at once. They upgrade their hardware on a regular basis to make sure that all of their customers, the old guard and the new customers get the best equipment for their needs.
3. SiteGround Hosting Security
One problem with sharing web servers is that vulnerabilities in your neighbor sites can break down the doors to yours.
SiteGround understands these concerns and utilizes a unique chroot mechanism to keep each account isolated in its own directory. This means that ever if there is a single account with a broken lock, they can't sneak into your site.
SiteGround has top security for a shared hosting environment and provides specialized account isolation which prevents not only security but performance and resource usage for the entire server.
SiteGround understands that they must keep their software up to date and keep up with known exploits. When software is compromised, they don't just wait for a stable release, but they write their own patches to fix it rather than put your server at risk.
4. SiteGround knows WordPress
SiteGround is an expert at hosting WordPress. They keep a dedicated member of their staff for WordPress development. This means that they are constantly at the cutting edge for WordPress development and they have the tools to help you.
SiteGround provides an amazing amount of support material to help you not only to start your site but to get it running efficiently and effectively.
With any package, you get free static cache and free CDN, but with the GrowBig or GoGeek plan you get a one-click dynamic cache called the SuperCacher. Unlike most dynamic caching software, the SuperCacher is a small plugin which can be turned on with a single click.
Signing Up with SiteGround
Signing up with SiteGround is quick and easy.
First, choose your hosting plan. SiteGround has three easy to understand plans to choose from. You can sign up for any of them with a discount they've offered for our clients.
The StartUp plan is perfect for those who just have one website or who are just starting. It includes 30 days of full backups of both the database and files.
The GrowBig plan is the plan I recommend to my clients. It's perfect for those that have only  one website or need to host multiple websites. This plan includes the SuperCacher, which greatly improves the speed of your WordPress site and also offers you full control over your 30 day backups. An SSL certificate comes free for your first year, so if you are needing to host an e-Commerce site, you have all the tools you need to start an online store.
The GoGeek plan is the best option for a larger site, or need staging and GIT integration. Those who need an e-Commerce get the free year of SSL and Free PCI compliance.
Click Here To View All SiteGround WordPress Hosting Plans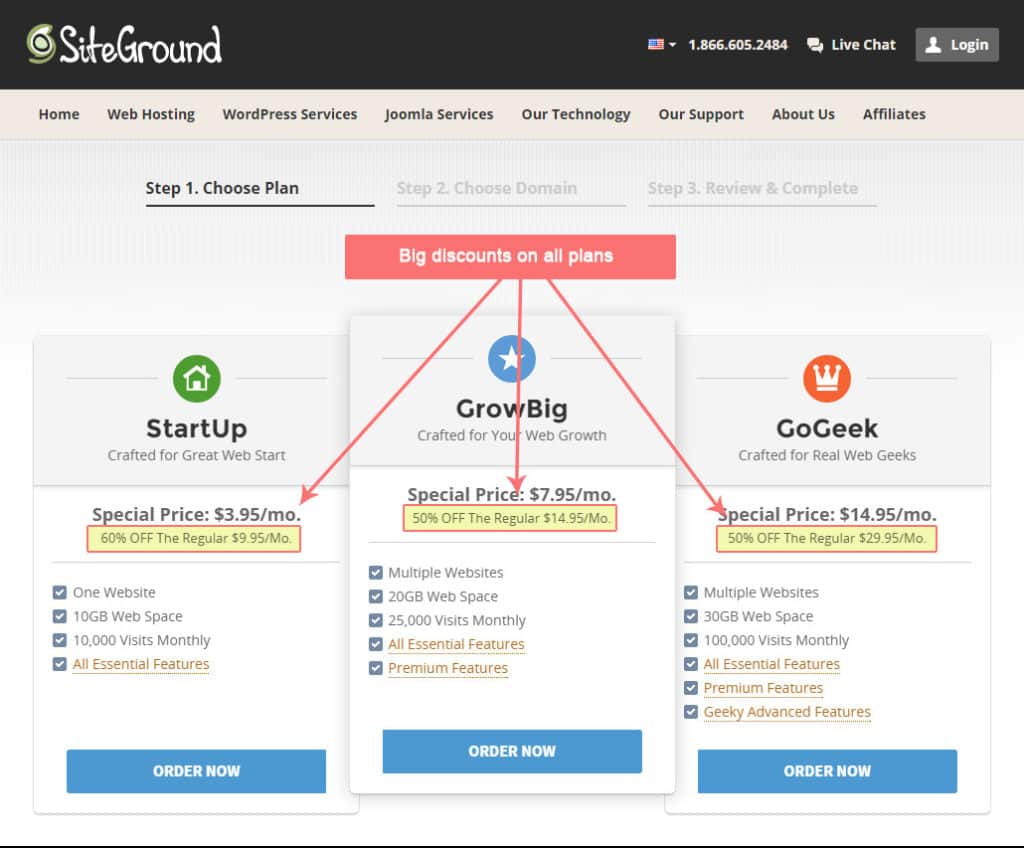 Once you've chosen your plan, you can choose your domain. If you already have a domain registered, great. If not, domain registration is included for free with SiteGround hosting services, so they have you covered! (Including your current domain name during the sign up process will not transfer it or interrupt your current website in anyway. Don't worry.)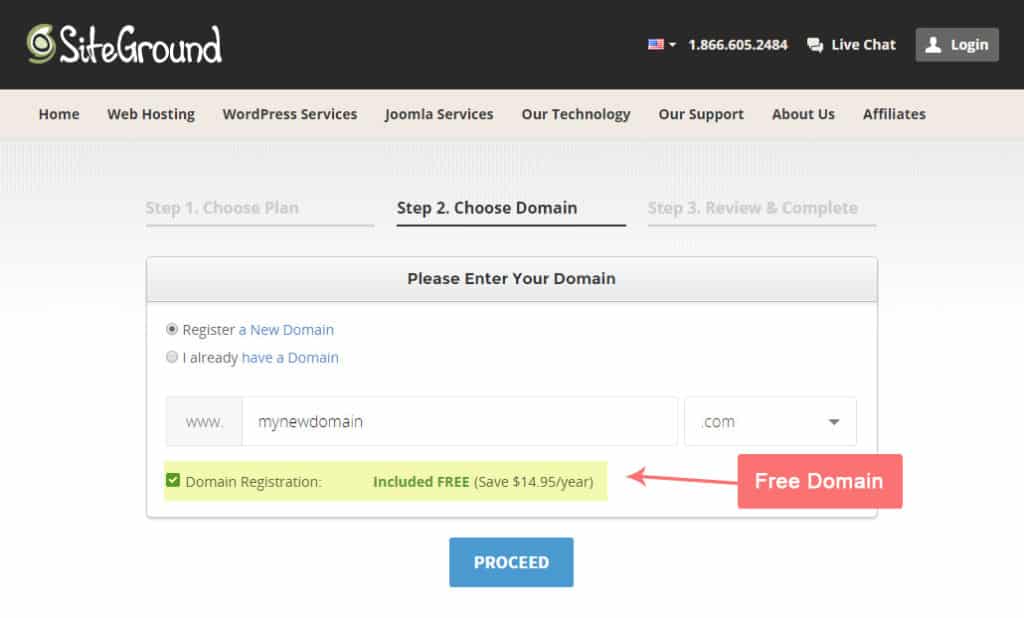 Then all you need to do is review and complete the registration. SiteGround hosting doesn't give you sleazy short term discounts available only during signup. You get the same low price for your first year. No need for lengthy contracts to get a good price.