USING CLOUDWAYS HOSTING AS A WEB DESIGNER
When working as a web designer, it is important to use the most updated software and tools in order to provide the best service for your clients. While there are plenty of options that you can use for cloud hosting, Cloudways hosting has emerged as one of the most beneficial options you can use. With Cloudways hosting, web designers are able to use a modern managed cloud hosting platform.
BENEFITS FOR FREELANCE WEB DESIGNERS
1. Manage Multiple Servers in 1 Dashboard Area
This is my favorite part about Cloudways. I can create a variety of servers in my account for a variety of needs for my clients. I can  separate my personal servers, from low end client servers with minimal needs and high end client servers with more complex needs. Server management here is very different from shared hosting. It's not complex, but it's also not for a beginner who knows nothing about servers unless he's willing to put the time in to understand.
2. Manage Multiple App Installs In Each Server
Each server you control can have a multiple different applications such as WordPress, Laravel, Custom PHP and Magento. The benefit here is that each install is also isolated to itself for an added security layer, and you still have root access to all your applications.
3. Easily Create Team Member Access
Team member creation is super simple with multiple roles of access available. You can create basic access for clients that only allow them within a dashboard on an application level basis or you can create access for your development team with optional access to billing and chat support.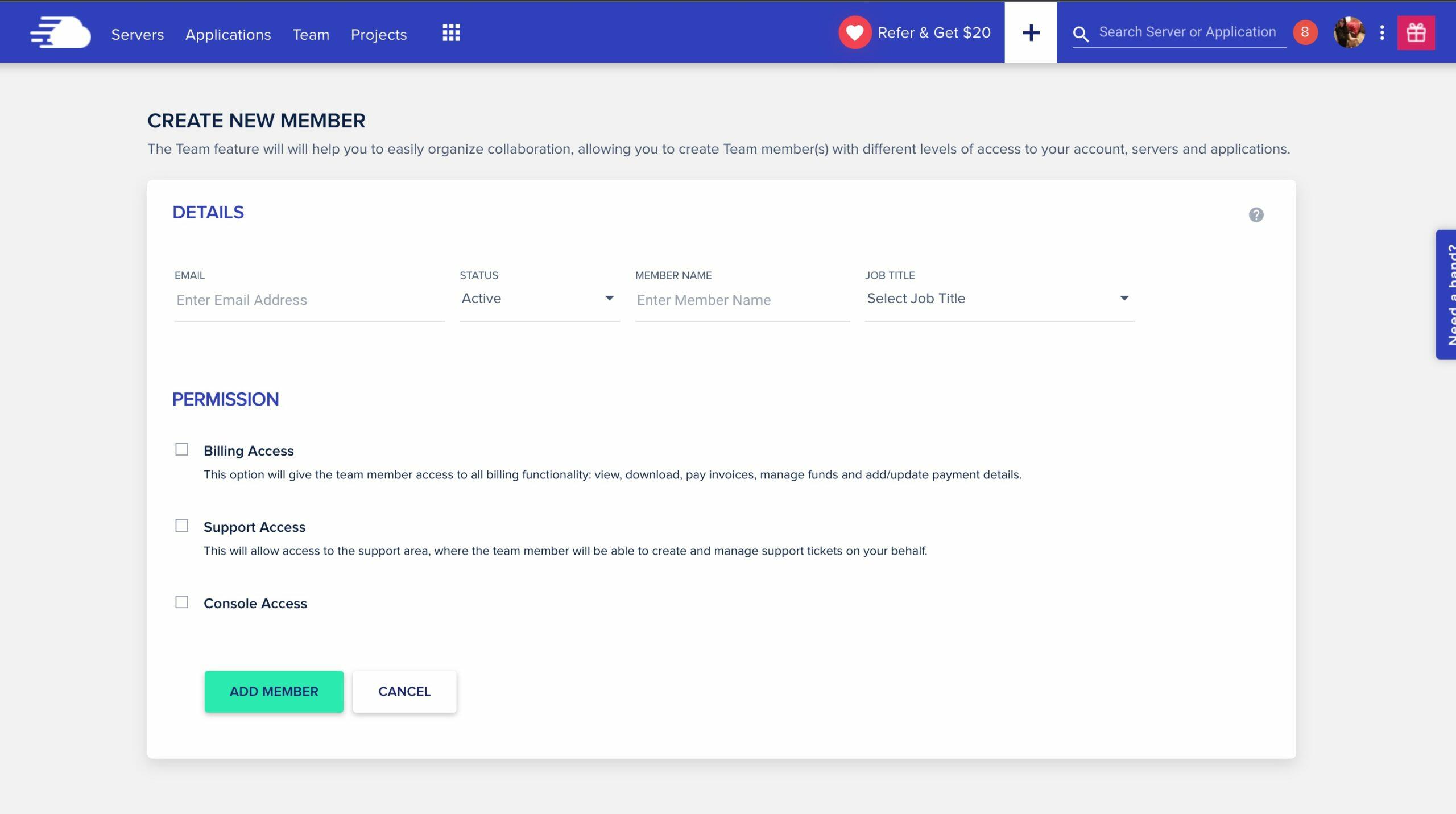 4. Website Migration Tools for Easier Website Transfers
Cloudways hosting makes it pretty easy to move a WordPress website from one hosting provider to another. The tool they provide for migration makes it awesome to move the large website files without having to slave away manually doing the work. You also don't need to have the SFTP login credentials for the source site. This makes moving clients away from bad developers a little easier without the confrontation. Check out the full instructions on how to migrate a website to cloudways.
5. Run High Quality Servers Without The Complexity
One of the things I love about CloudWays is that it allows me to manage my WordPress websites without the need to be a server expert. I can utilize services such as AWS, Google Cloud Platform, Linode, Vultr and Digital Ocean. Pricing is predictable and affordable.
6. Beautiful Dashboard UI with Easy To Find Support!
I really am super in love with how simple they have made the UI of this website. They have super minimal menu items and support is always a floating tab in eyesight for easy access.
The new trend with bad hosting companies has been to make the trail to find support so complex that you want to give up even trying to create a ticket. It's hard to find phone numbers, support tickets, and chat. It actually feels like an insult because when I pay a company, I expect them to make it easy for me to contact if I need assistance. I'm paying for a service, therefore, I want to be served respectfully.
WHAT I DON'T LIKE ABOUT CLOUDWAYS
Cloudways is still fairly new to me, but there are still some things I really don't like that I hope they are working to bring in for the future.
PHP is Server Level Only.

Meaning, even if all my applications are wordpress installs, they all have to be running the same PHP version. This doesn't work well when different applications usually require different needs because not all clients can update their websites on a whim and all applications are built very differently in most cases.

No DNS Management or Domain hosting available.

Which isn't a big deal, because there are some other great options available for DNS management out there that are better for performance and increased wordpress speed anyhow. Cloudflare and EasyDNS are great options in managing your domains.  For those of you that prefer centralized accounts, it sucks. I personally don't like to too many accounts in so many places as it gets really cumbersome to make sure all your account billing is up to date in all of them.
NOTABLE HIGHLIGHTS OF CLOUDWAYS
1. Simplicity and Choice
One of the main highlights of Cloudways that makes it among the best web hosting options is that it offers users with the most simplicity as well as the most choices. With Cloudways, businesses can get support for up to 5 cloud providers, unlimited applications, get support for all PHP apps and get an innovative cover panel.
2. Worry Free Experience
Using Cloudways provides businesses with the best web hosting experience by offering one that is worry free. Users will get 24/7 support, managed security, automated backups and 24/7 monitoring in real time.
2. Scaled Performance
Cloudways also offers performance that scales as well. With this option, businesses will be able to get optimized stacks and built in CDN. They will also have access to auto healing services and PHP 8 ready servers as well.
INNOVATIVE PLATFORM BUILT-IN TO EMPOWER IT DEPARTMENTS
This managed hosting option assists many businesses unleash the full potential of their websites at all times.
With Cloudways, businesses will be able to get a website that will go live within minutes. This cloud hosting platform eliminates all of the complexities of establishing a website. As a result, you can get your website operating live within a matter of a few minutes. Other hosting options usually require a day or two to go live.
With Cloudways, businesses can also get their sites managed in the most professional manner. When using this option, both web designers and businesses can built and manage a website and apps with more collaboration and efficiency.
By using Cloudways, businesses and web designers can use an option that will provide the fastest performance along with guaranteed security and scalability for any website they built and host.
ELIMINATING WORRIES AND CONCERNS
Whenever you construct and run a website, there is a possibility of something going wrong. As a result, businesses and web designers will often need to resolve these problems immediately. While web designers can spend time resolving any problems with a site, Cloudways helps eliminate this hassle.
Since Cloudways offers support 24 hours a day 7 days a week and 365 days a year, both businesses and web designers will be able to get any problem solved quickly and easily. With features such as the Advanced Support option, users will be able to improve the level of support they get. As a result, businesses and web designers will be able to have the tools they need to maintain a quality website.
BEST CLOUD HOSTING FOR WORDPRESS
Another highlight of Cloudways and a reason to use this as your hosting option is that it will allow you to guarantee success for any website that uses WordPress. Many businesses and web designers often use WordPress in order to make and run websites. With Cloudways, you can get the most trusted managed hosting for WordPress and WooCommerce. Using this option will allow businesses to eliminate any hassles pertaining to the cloud server.
As a result, you can scale your website any way you want. The managed hosting features include many things to help manage a website. These include advanced cashes with Breeze and Cloudways CDN to provide your website with the fastest possible performance. All of these features create a more efficient web hosting experience for users.
FEATURES OF CLOUDWAYS
Cloudways offers both businesses and web designers a number of features that make it the preferred choice for a web hosting platform. These features make Cloudways stand out from other web hosting platforms that are currently available.
1. 24/7/365 Live Chat
Users get all of the help they need using the platform. They can access any assistance at any time throughout the day. With a team of highly trained experts, businesses and web designers will be sure to keep their websites working at their best.
2. Online Ticketing
This feature allows users to track the most complex queries and issues on the internet as they are addressed. The support team at Cloudways will provide tickets for service requests on your behalf. Users also have the option to submit their own ticket as well.
3. 30 Minute or Less Response Time
Cloudways offers Advanced Support which provides users with more access to Live Chat and reduces the response time of online tickets by 3 hours with a priority response time of 30 minutes or less.
4. Server Customization and Configuration
Users can have PHP and other custom packages deployed by using Cloudways. The platform can also cache configurations and make changes with the configuration of any server as well.
5. Phone Access
By getting Premium Support added on, users will be able to call Senior Support Engineers and speak to them directly at any time.
6. Application Level Issues
Features such as theme troubleshooting, plug ins, and investigation of server errors can help businesses manage their databases and email add ons. These features help optimize the overall performance of a website.
HIGH SPEED PERFORMANCE
Cloudways ensures that businesses and web designers have websites that always come with high speed performance. Users will get a website with access to dedicated resources. This platform also offers SSD based hosting which is 3 times faster than other hosting platforms.
With other features such as built in caches, PHP 8 ready servers, Cloudways CDN and Auto healing managed cloud servers, users will ensure that their website will always work at its best using the latest technology.
MANAGED HOSTING AND SECURITY
When it comes to hosting a website and running it, security is one of the primary concerns of both businesses and web designers. With Cloudways, you will never have to worry about any information being compromised. That is because Cloudways uses the most updated managed security features that are currently available.
Some of the features you get with Cloudways include dedicated firewalls, 1 click free SSL installation, IP whitelisting, security patching, two factor authentication, IaaS providers and block storage. These ensure that your website will be protected from any hackers or software that can ruin your website.
COMPREHENSIVE MANAGEMENT OF YOUR SERVER
Another one of the best things about Cloudways is that it provides users with the most possible flexibility. You will get the most comprehensive management of your server. By using Cloudways, users will get features such as vertical scaling of technology resources, MySQL support, multiple versions of PHP, global availability and support for all apps associated with PHP.
SMOOTH WORKFLOW & TEAM COLLABORATION
With smooth workflow and team collaboration, users will be able to achieve all of their goals. Some of the features included are integration of Git, access to SSH and SFTP and cloning of applications and servers. Users will also get one account for multiple teams, management of projects, staging areas for URLs and the ability to add more team members at any time. Cloudways also allows users to transfer servers and use a migratory plug in to migrate WordPress from an old hosting site and put it into a new one for free.
COMPLETE CONTROL
As a web designer or a business owner, it is important to have autonomy on how you want your website to be run and managed. With Cloudways, you can take advantage of an easy to use UI that enables you to control any application or server with ease.
You can take advantage of options such as 1 click backup and restore, a 1 click stop app, app settings using UI and a supervised Queue manager. Users can also change the application Webroot as well.
ONE ACCOUNT AND MULTIPLE INTEGRATIONS & ADD ONS
A user can use one account to integrate multiple programs and add on features. This platform offers Cloudways Bot Channels, API and application migration add on features. Cloudways also includes SMTP add ons, email add ons using Rackspace and application upgrade add ons as well. The one account feature also includes cloudways support add ons that users can take advantage of too.
KEEP TRACK AND STAY UPDATED
Cloudways always allows users to keep track of their technology and stay updated on it as the same time. This platform offers 24/7 real time monitoring to ensure that your site and server are working properly. It also offers new relic integration which allows users to get insight on app performance in order to troubleshoot and identify issues with your site.
Lastly, Cloudways Bot Notifications provide users with AI based assistance that provide information to help you optimize your servers and applications.