When you are trying to create a social network, your Google account is going to be the most important one you will create.
ONE Google account will give you access to Google Analytics, YouTube, G+, Gmail, Drive, and more. In the past I have witnessed clients whom have mistakenly created multiple google accounts and were never able to properly manage anything or keep it centralized and connected, thus making managing a business online, rather complicated and confusing.
Here is a list of some of the main Google accounts you may or may not use for your business.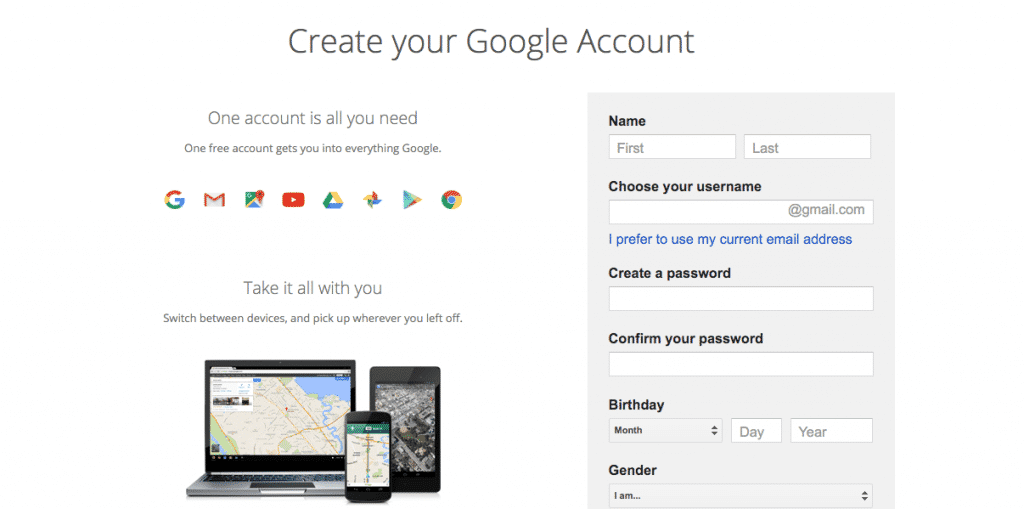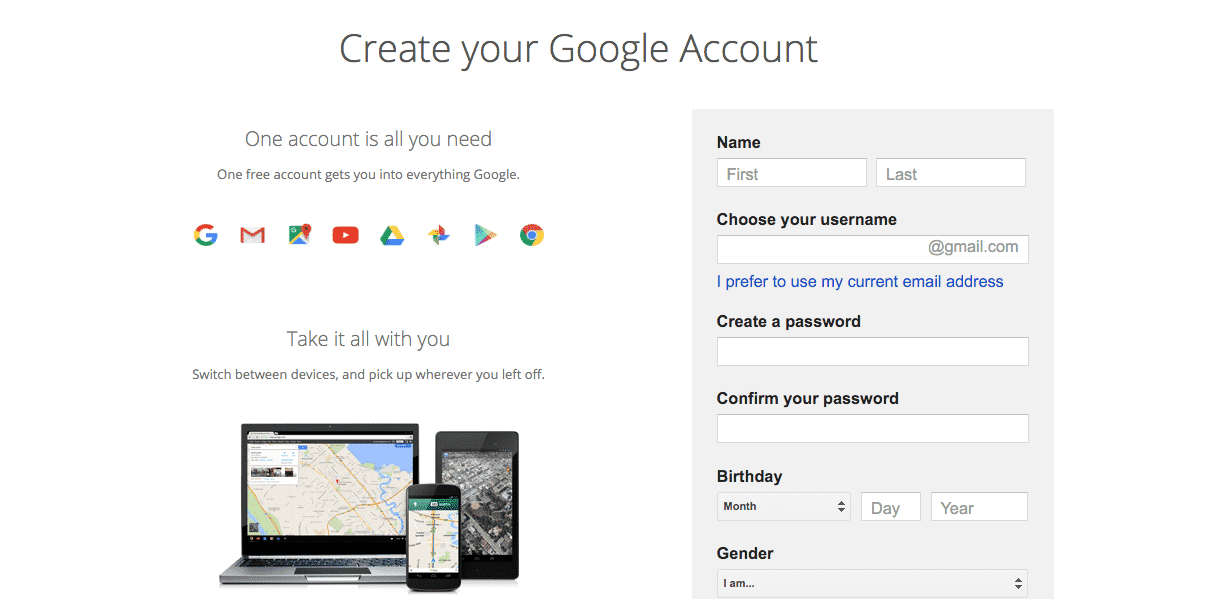 Google Account and Business Setup
It is very important when you do create your Google account that you do it properly or you could have your account suspended and you will have to start all over. Here are a couple articles that go over step by step with great visuals on how to do this right.
When your business is setup with Google, you will have control of how your business looks in the area to the right. The hours, images, map, location, phone numbers, etc…
Once you have created your Google account, you now have access to ALL the Google apps and programs. You will use this SAME username and password at Gmail, Youtube, Analytics and more.
Google Analytics
When I develop and design a website for a client, I normally always install Google Analytics. I then add my clients to their own analytics account. Google analytics is a super detailed program that keeps track of the traffic that their website receives.
Google Analytics is a rather complicated beast. Which is why for most my clients, I send out my customized google analytics report of the website traffic they get, rather than make them have to think. But, I have many clients who will hire companies to manage their analytics or attempt to *gulp* "do it themselves".
Youtube
A lot of people don't know that youtube is owned by google. Notice, when you are logged into your Google account, there is a little circle at the top right corner (usually with a photo of you if you uploaded one), a message alerts icon and next to that the app launcher (the grid looking icon). If you click on this image of the grid, a drop down of all the Google apps you use will show. If you don't see youtube, just visit http://youtube.com and sign in with your Google account username and password you created.
Businesses can benefit from using Youtube. It is the second largest search engine next to Google. You can upload tutorial videos, commercial videos, review videos and more. There are so many possibilities and finding a way to make use of video in some fashion or another for your business will surely bring in more traffic and exposure. Did you know you can even upload videos that you can sell for RENT or PURCHASE? Yup! It's pretty cool.
Gmail and More…
Gmail is the email program from Google. A lot of business will use gmail because it's rather easy to access and maintain.  Having an android phone allows you to keep all these wonderful Google apps with you "on the go". These are just a few of the MANY apps Google has to offer. Take full advantage of what you can. Here are a few more articles and apps Google offers that might help you organize and optimized your business as you manage the world of  Google.